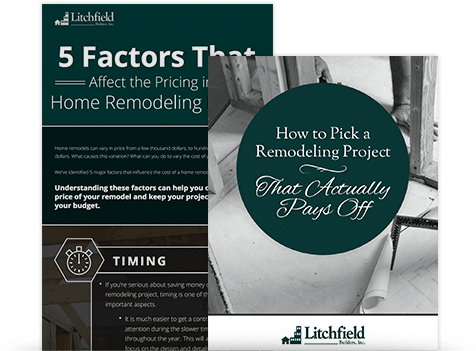 Get instant access to our Home Remodeling Toolkit (so you can get the best return on your investment on your next remodel)
See how you can get the most out of your next home remodel by knowing what to expect and how to prepare.
Subscribe to the Litchfield Builders blog to get your free toolkit right now.
Here's what people are saying about us.
"… I am… grateful for the wonderful job Litchfield did with all of our projects… We are very pleased with the outcome, and you and your great people… should feel proud of what was built. Thank you!"

Jack Dwyer

ASSA ABLOY, New Haven

"Your company did an amazing job from day one and we are so grateful for your expertise and professionalism."

"Litchfield Builders completed [our project] efficiently, professionally, and with no additional charges. [This is yet] another testament to your consistently good service -- even with fussy clients..."

David Thompson AIA, Principal

David Thompson Architects, New Haven

"…You have renewed our faith in the industry. Litchfield was specific [and honest] regarding the details of the project…[Their] advice was from experience and excellent; your goal was to please the consumer and you went above and beyond of what was expected…Thank you for a job well done!"

Michael & Catherine Amodio

North Haven

"…Thank you for your gift of the design, construction, and installation of the base for the tabernacle in our new St. Catherine of Siena Chapel. Such generosity is truly extraordinary…. we are so very grateful…"

Julia M. McNamara

President, Albertus Magnus, New Haven

"…These men were the essence of professionalism; kind, considerate, and often displayed great patience…Our experience was wonderful! I would like to commend you and your team for a job well done and beyond the scope of that is normally expected for them..."
Subscribe to Our Blog
Want to stay up to date on the latest Builder's Buzz? Subscribe to our blog and you'll get our newest articles sent right to your inbox.